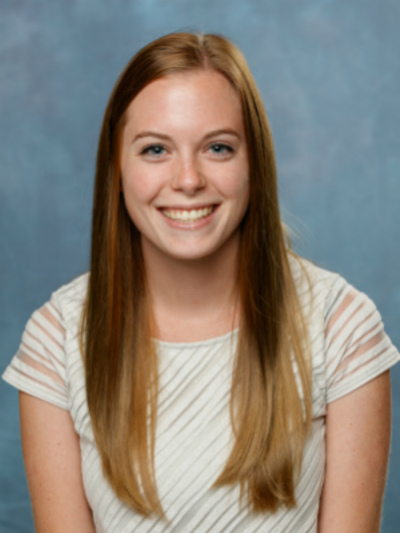 Nicole Pukos
Advisor: Dana McTigue
670 Biomedical Research Tower
460 W. 12th Avenue
Columbus, OH
43210
Areas of Expertise
Neurotrauma, Neurological Disorders, and Gene Therapy
Molecular and Cellular Neuroscience
Education
BS in Biomedical Sciences, SUNY Buffalo
Research:
My research focuses on extracellular and intracellular regulation of oligodendrocyte precursor cells (OPCs) after spinal cord injury. We believe remyelination due to OPC proliferation and differentiation is regulated by axonal glutamate. I am also interested in a more translational approach that focuses on the role of glutamate after SCI. Previous work has shown glutamate levels are elevated after injury, creating an excitotoxic environment that contributes to secondary injury. Our lab has collaborations with multiple labs on and off campus in the hopes on finding a treatment to improve functional recovery after SCI. In particular, I am testing a drug that reduces glutamate levels after injury, and using a novel drug delivery approach that should specifically target the spinal cord after injury.
Publications:
Pukos N, Yoseph R, McTigue DM (2018). To Be or Not to Be: Environmental Factors that Drive Myelin Formation during Development and after CNS Trauma. Neuroglia, 1: 7.
Goldstein EZ, Church JS, Pukos N, Gottipati MK, Popovich PG, McTigue DM (2017). Intraspinal TLR4 activation promotes iron storage but does not protect neurons or oligodendrocytes from progressive iron-mediated damage. Experimental Neurology, 298: 42-56.
Presentations:
Pukos N, Larson M, Yoseph R, McTigue DM. The Role of Glutamatergic Signaling on Remyelination After Spinal Cord Injury. 2018 American Society for Neurochemistry, Riverside, CA.
Pukos N, Larson M, Yoseph R, McTigue DM. Glutamatergic regulation of NG2 progenitor cells after spinal cord injury. 2018 IGP Symposium, Columbus, OH.
People Filters: